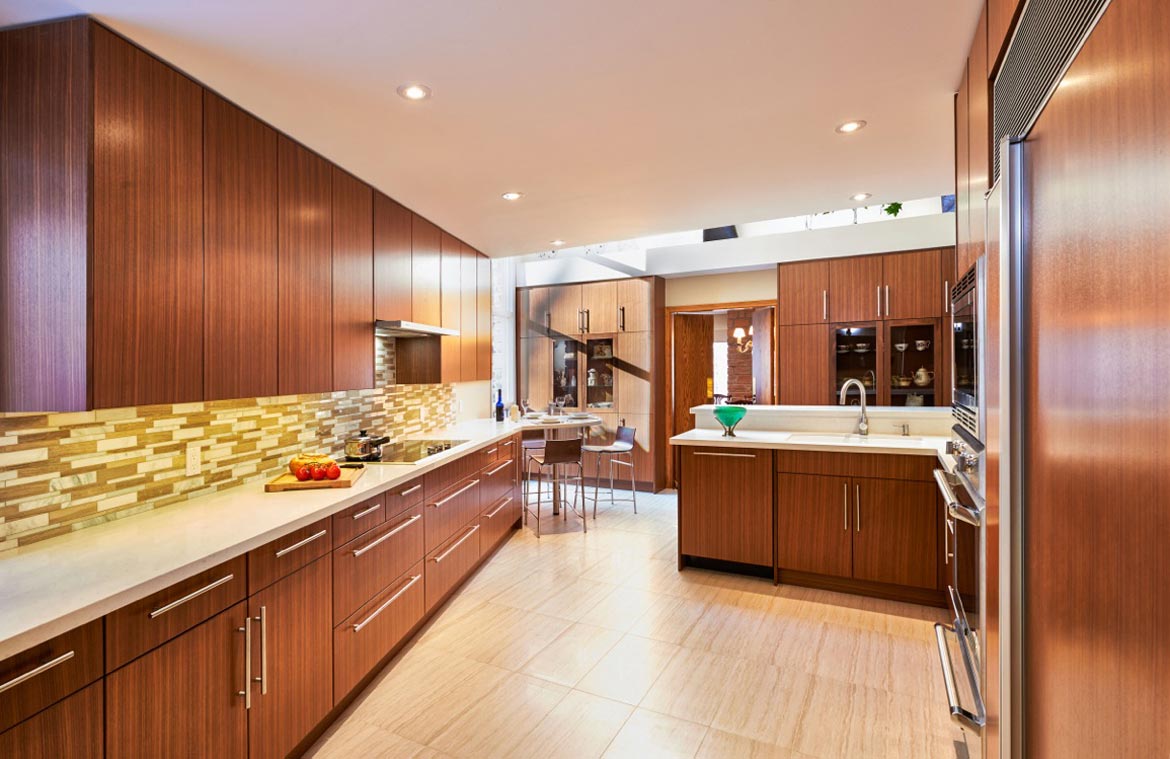 A collection of what you need to know when buying a custom kitchen:
Layout
Understanding your current kitchen
We believe the first step of renovating your kitchen is understanding how you and your family currently use it. Take a moment to think about a few things that you like about your current kitchen, what problems you have with it, and what would your ideal kitchen look like? This step is crucial for the functionality of your kitchen. To optimize the functionality of the space our designers look to integrate your unique needs into the space. For example, if you are an avid baker we will customize your kitchen for more counter space. If you are a frequent entertainer, we will accommodate accordingly. Our designers evaluate your lifestyle to find the optimal balance between counter space, storage space, and open space specifically for your needs.
Getting new ideas
There is a wealth of resources to turn to for new inspirational ideas, kitchen layouts, and innovations in functionality. Look at Pinterest, Houzz, and our kitchen gallery to find interesting styles to integrate in your future kitchen. Our kitchen gallery showcases some of the creative ways that we've accommodated client's needs like hiding countertop appliances behind an appliance garage or creating a peninsula instead of an island to balance working space and counter space.
Triangle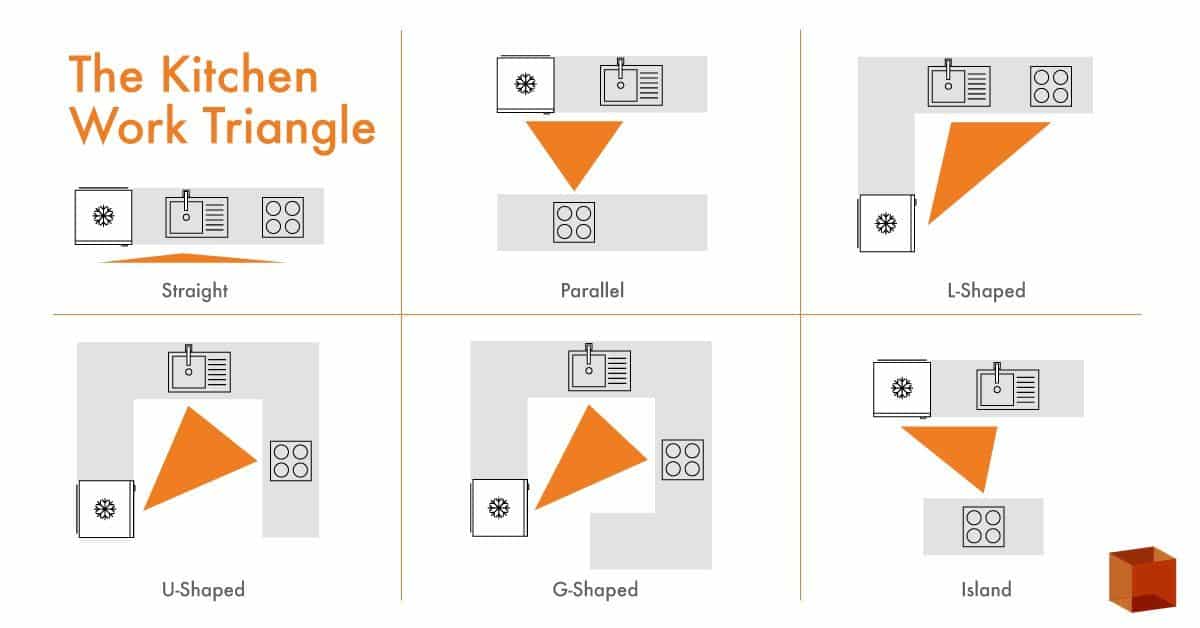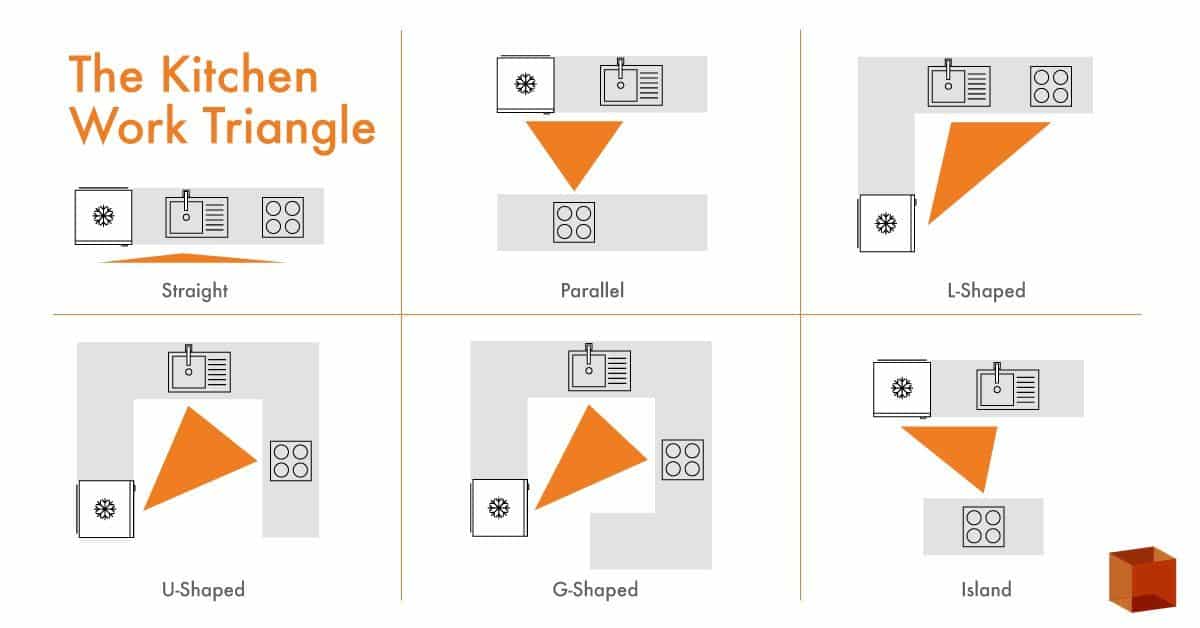 The kitchen work triangle is the concept that the stove, sink, and fridge need to be within a triangle of each other for the optimal work environment. It is a design concept used to create the ideal kitchen workspace. We believe that this an oversimplification of the factors that dictate the placement of appliances in your kitchen. There are a few other factors that we need to take into consideration. The Ontario building code dictates where your stove can be relative to your other appliances, in particular, your fridge. The location of the windows determines where we situate the sink so you aren't stuck staring at a wall doing the dishes! if there is a dishwashing machine the ideal place is on the right of the sink (if you're right-handed). These are a few of the factors we take into consideration for the full layout of the kitchen for optimal functionality.
Design
Now comes the fun part, designing your custom kitchen. Get inspired and pinpoint ideas by looking on Pinterest, houzz, going to showrooms, and looking at magazines. This step will help give our designers a vision of your perfect design to start the process. We can help widdle the ideas to an overall theme for your kitchen. When looking through magazines or websites for inspiration we recommend paying particular attention at a few things:
The overall tone of the space (warm, cool, dark or light)

How the countertop, backsplash, and floor match each other

Lighting options

Cabinet colors

door styles.
When it comes to picking out the overall colors of the kitchen we suggest starting with the cabinetry, then deciding on the flooring, countertops, and backsplash. That said, nothing is set in stone until you've picked everything, and you can make adjustments to the colors throughout the design process.
Paint Vs Stain Vs Other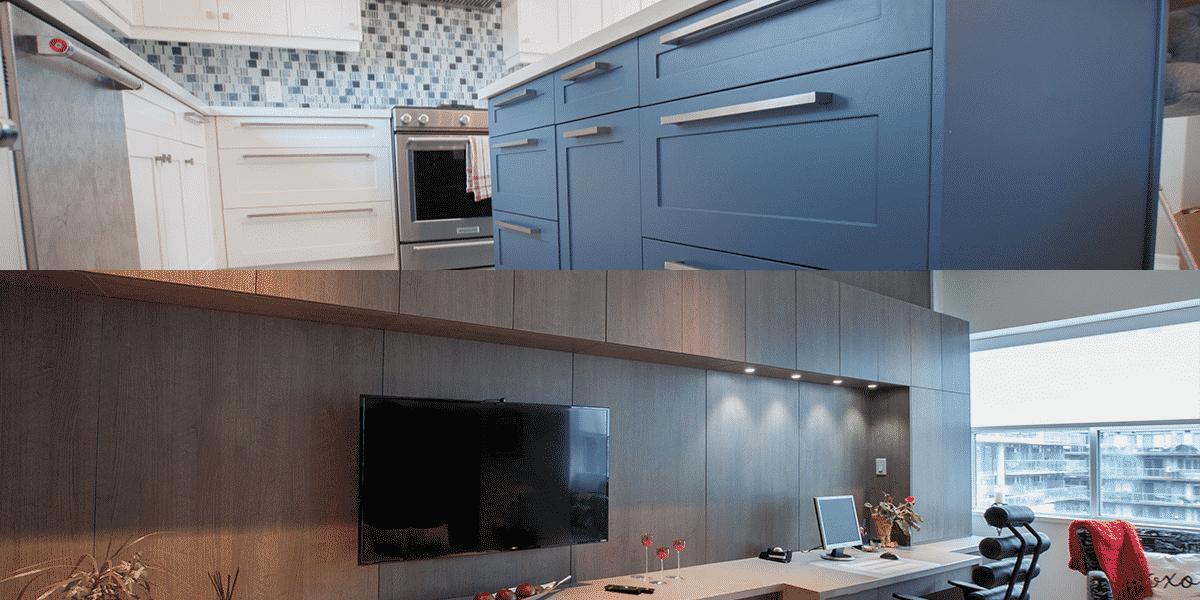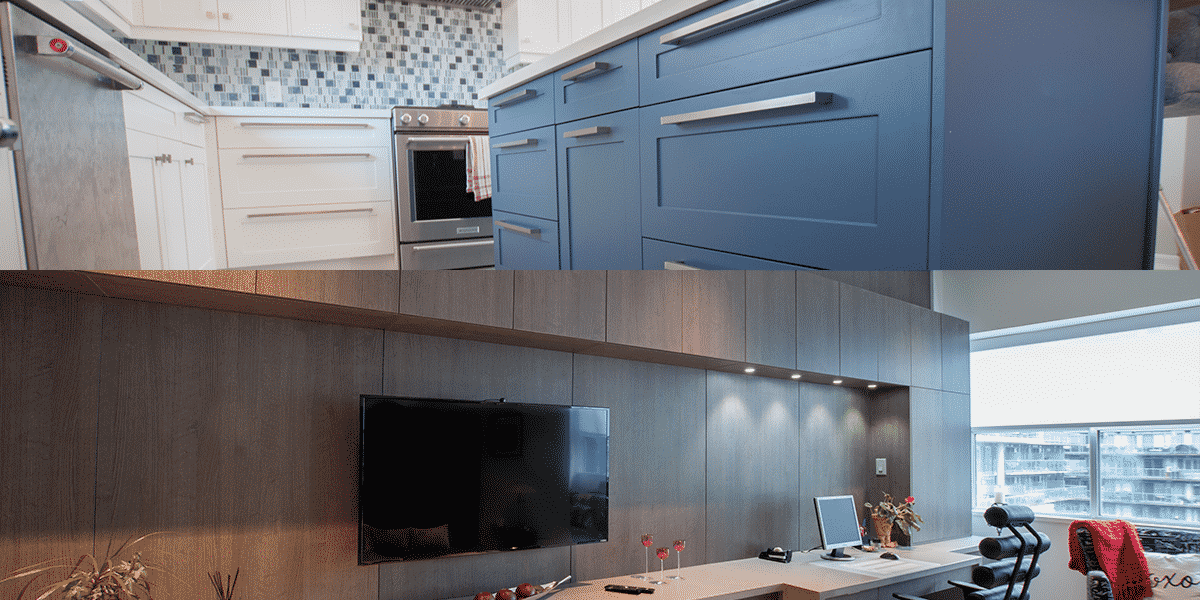 Choosing weather to paint or stain the kitchen is a question we get asked frequently. We have written a separate blogpost about it where you can go to get detailed information. The main difference is that paint makes the cabinetry an opaque uniform color, Whereas stain allows for a more translucent finish with the grains of the wood appearing through the stain like a tinted layer of color on top of the underlying wood.
There is also a third option with flat panel doors becoming more and more popular. High gloss PET and Melamine doors are a viable alternative. These typically can only be done with flat panel doors and they come in a standard set of colors. We have access to hundreds if not thousands of different options. This option works well in a modern kitchen.
Read more about paint vs stains
Cabinet Materials
When it comes to cabinet materials and colors, there are many different options to choose from. The beauty of choosing to go with a custom kitchen is that you can match any colour whether you want to color match the kitchen with other spaces in your home, or finally get that perfect colour you have been dreaming of! This guide outlines a few things to keep in mind when trying to pick colour, cabinet material, cabinet door material, and hardware. Our designers will also help guide you through this process.
Cabinet Box Construction


When it comes to picking what cabinet boxes are made of you have a few options. Each material has its benefits with Melamine being the more popular of the two.
Particle Board
Particle board is a mixture of wood and glue, with a layer of melamine or wood veneer that both protects it from moisture and gives it its look. Recent strides in manufacturing over the last few years have allowed more companies to produce larger varieties of colors and even textures. The main benefit of a particle board cabinet is that it is cost-effective and there are a variety of colors to choose from.
Plywood
Plywood consists of multiple layers of thin hardwood in alternating directions to prevent warping. The plywood panels typically come with a wood veneer that can be stained in any color with a protective spray coating to prevent water damage. The main benefit of going with plywood cabinet construction is durability as it tends to be one of the strongest materials to build a cabinet with.
There are various thicknesses and qualities for both melamine and plywood. Our standard is to use the highest grade of each building material to maintain the best quality for our clients.
Cabinet door material
Another great question our clients have is what cabinet door material they should use. There are two main materials to choose from: Hardwood and MDF A few things that dictate the materials that we use  are the color that the you would like, for example, if you wanted to stain the Cabinetry we would have to use a hardwood Or if you'd like a flat panel door we'd have to use an MDF or melamine material
Hardwood.
Hardwood is a favorite here at Apico kitchens, we typically use maple because of its density, strength and most importantly, its luxurious look. There is a variety of wood species to choose from, including maple, cherry, walnut, and oak. However, when painting the doors, we tend to lean more towards maple then any other species. When staining, the species of wood we will use is predominantly dictated by the texture and color you have chosen. Each species of wood has its various properties; Cherry has a slightly red undertone, while Oak has a slightly yellow tone with more prominent grains. A common misconception clients have about hardwood is that it cracks in the seams over time. However, good quality hardwood made properly will not warp, crack, or disjoint.
MDF
MDF Stands for medium density fiberboard it is a dense board made from tightly packed wood byproducts. The benefits of using MDF are the low cost, and resistance to water and moisture. The MDF we us is sealed properly with a PVC coating, making it much less susceptible to water damage. The main drawback of MDF both are due to the way the product is processed. A CNC is used to cut MDF out of a solid block. This does not allow the sheet to have perfect 90 degree corners. The PVC coating added on will also make the edges more rounded, we believe that this may take away from the overall look of the kitchen.
Colour
Choosing the right color depends 80% on personal preference and 20% on suggestions from our designers. We believe that choosing the colours of your new kitchen is a deeply personal process. Once our designers see what colours you are thinking about using, they will apply their expertise to derive the perfect colour for the space.
Traditionally, stains would be used for lighter colours, and paint would be used for darker colours. Industry innovations however, have led to the availability of other options. PET is a very high gloss material used on MDF board which comes in a variety of colors ranging from solid whites and browns to even more interesting patterns like Zambrano pattern. Another material currently being used is a melamine option. This gives the surface a unique texture but is also used for their durability and affordable price point.
Countertop
Choosing a countertop is often overwhelming as it is one of the most highlighted aspects of the kitchen. To help our clients with this decision we have made a separate blogspot. A majority of our customer's pick a granite or quartz. They both have their benefits and drawbacks typically lighter-colored granite's are more porous and therefore are more susceptible to staining however light and dark quartz has the same durability. In recent years, the price of quartz has dropped,making quartz a more viable option for a lot more Canadians. Quartz countertops are made of a quartz rock that's ground and mixed with resin and coloring. Typically quartz countertops are 97% quartz. We now see much more interesting patterns in quartz due to technological advances. The price point and the different colour options is what drives clients to this choice. The most natural stone look is with granite. We advise clients to go with granite if they want a dark coloured countertop in terms of functionality. My personal belief is that nothing matches the intricacies and nuances that you get from granite including some of the rare natural colors like blue Azul not found in quartz.
Timeline
It typically takes 6 to 8 weeks from the first meeting to the delivery of the kitchen. A few days should be allocated towards installation. To save on time, it is important that the demolition of the kitchen has already occured. Also any plumbing, wiring, and flooring changes be completed before instillation of the kitchen. Backsplash will be installed after the counter and the cabinets as it is cut specifically and precisely to fit the wall perfectly.